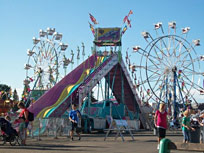 See the maps and driving directions below to get to the Cloverdale Rodeo and Country Fair.
(Click and drag your mouse to move the map, or use the controls to zoom)
DRIVING DIRECTIONS
From the Pacific Highway Border crossing:
Exit Canada Customs Entry point
Drive north on hwy 15 (also known as 176th street)
Continue north on hwy 15 until you reach 60th Avenue
Turn Right on 60th Avenue ( At 7 Eleven)
Turn left into Gate 2
From Abbotsford, Chilliwack and points east:
Drive west on Hwy 1 ( Trans Canada)
Exit Hwy 1 at 200th Street exit
Drive South on 200th Street until you reach 64th Avenue
Turn right on 64th Avenue
Stay on 64th Avenue until your Reach Gate 8
From Richmond:
Drive South on Hwy 99 until you reach Hwy 91
Exit Hwy 99 at Hwy 91
Drive on Hwy 91 until you reach 56th Ave
Exit on 56th Avenue ( Hwy 10)
Drive East on Hwy 10 until you reach Hwy 15
Turn Left on hwy 15 ( 176th Street)
Drive North on Hwy 15 until you reach 60th Avenue
Turn Right on 60th Avenue (7 Eleven)
Turn left into gate 2
From Vancouver – Via Port Mann Bridge:
Head east on Highway 1 over the Port Mann Bridge.
Exit right onto 176th Street (Highway 15).
Head south on 176th until you get to the Cloverdale Fair Grounds.