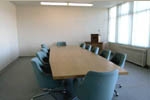 The Boardroom is the perfect place for those important meetings.  Whether it is a board meeting, or a book club, we can accommodate you.
Boardroom Information
1 room 17′ x 29′  or
2 rooms 17′ x 58′
Capacity of 60 for large room
Tables & chairs included
Whiteboard
Linoleum flooring
For more information regarding this facility, including pricing and rentals, please contact Facility Rentals & Special Projects.